Jonathan Goodwin Talks To Jay Fortune #3 (2 CD set
Manufacturer's Description
With his break in Monkey Magic as The Colonel, Jonathan Goodwin has become one of the world's most sensational and creative escapologists. Starring in 'Dirty Tricks', 'Death-Wish Live', 'Balls of Steel' and 'The 7 Most Stupid Things to Escape From' with his unique and original escapes, Jonathan has been buried alive, hung, stung by bees, been through a car wash strapped to the outside of the car, swung by a crane into televisions and toilets and appeared naked and bound in-front of his family and friends.

In this third release of the Magic Interview Series, Jonathan offers his views and opinions on why he pushes the boundaries of magic. His philosophy doesn't always make for easy listening. If you're serious about standing out from the competition and allowing your spectators to experience something truly unique when watching you perform then Jonathan's words will certainly set you thinking.

Like his escapes, Jonathan's interview with Jay Fortune is controversial, compelling and captivating.

CD1: Running time approx 48 minutes.

Part One: The Early Goodwin
Creative control, trick construction and inspiration for new effects
Is the magician really an actor playing the part of a magician? The difference between acting and performing
How he got his break into TV
Jonathan's work with Derren Brown
Behind the scenes of Monkey Magic including the original line-up
Problems with magic; competitions, props and magicians
Knowing who you are and what magic suits you
Magic for television; shooting magic effectively
How to make your magic memorable
Producing Undercover Magic and The Secret World of Magic
His philosophy on escapology; jeopardy, traditional escapes, performance and flaws
CD2: Running time approx 58 minutes.
Part Two:
The Escaping Goodwin
Traumatic entertainment = compulsive viewing
His Dad and his role in Jonathan's escapes
How do you make a cow a restraint?
Inspiration for his escapes
Toleration of pain
The real story of what went wrong on Death-Wish Live
The flawed plot of Russian Roulette
His meticulous research, planning and preparation
Part Three:
The Philosophical Goodwin
The '90% of Magicians are A**holes' Theory
Originality of performance
Why magic attracts a certain type of individual; a geeky boy's hobby
Part Four:
The Gaffa-Taped Goodwin
Jonathan puts his reputation and fee on the air. A live escape in the Radio Magic studio.
Part Five:
The Revealing Goodwin
Famous magicians, societies and secrets!
If you want to know how to make your magic suit you, stimulate your creativity and find inspiration to make your performances memorable then the Magic Interview Series #3 is a must for your collection.
Presented in a double DVD case with full colour DVD sleeve, your copy comes complete with two printed audio discs, and a running time of over 106 minutes.
Review Excerpt

Random I-Tunes Song of The Moment: I'd Just Love to Lay You Down By Conway Twitty
For $30 bucks you get a 2 disk set of Jay Fortune interviewing Jonathan Goodwin, 10 tracks, and disturbing images burned into your brain so deep that even Will Smith and Tommy Lee Jones can't erase them.
It's kind of tricky to review something like this. It's an interview. I could rate it on if I liked what the interview was about. But just because I liked it doesn't mean you will. I could grade it on product quality, b . . .
Details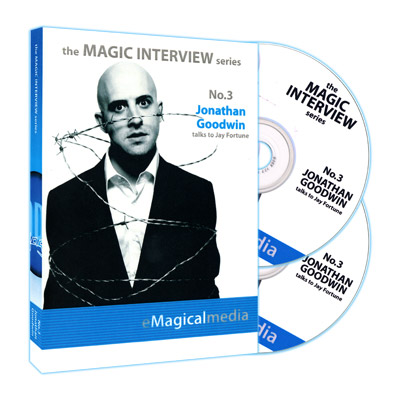 MSRP: 30
Murphy's Code: CDJONATHANGOODWIN
Creator(s): Jonathan Goodwin
Publisher(s): Jay Fortune
Media Type(s): DVD & Trick